News
Our school blog is a great chance to see what's happening at HQIS in a regular basis. Here you can see daily life as it develops within our campus, browse pictures, and get to know us on a more personal basis.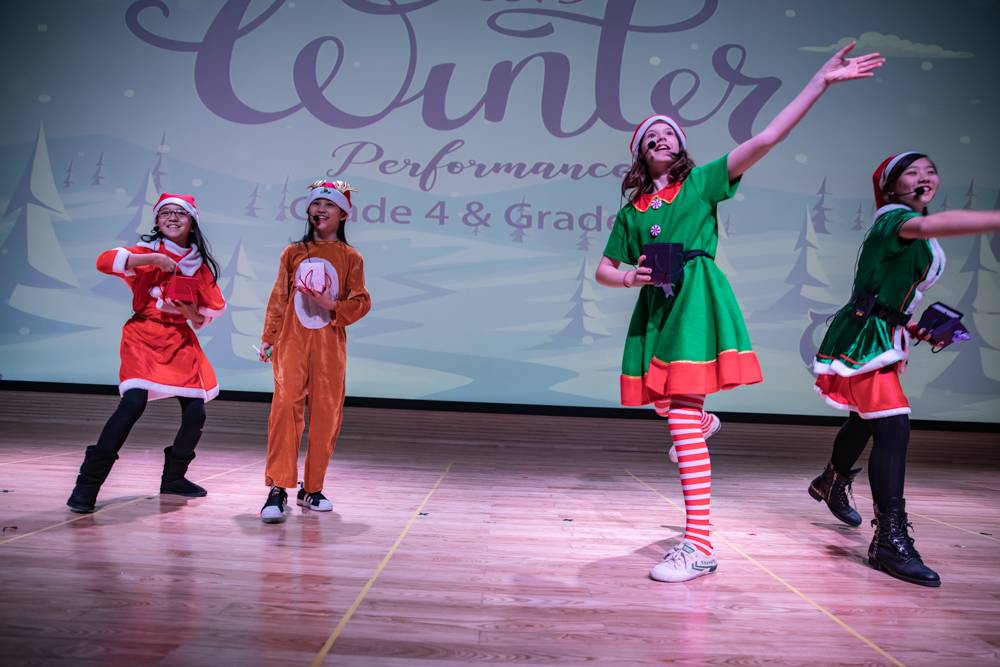 The heat of August did not stop the enthusiasm of HQIS teachers and coordinators. Our leadership team and teacher team completed a series of professional development sessions that took place on a daily basis for the whole month. The contents of the sessions were broad, ranging from teaching methodologies to managerial aspects. The training was both online and offline so that our teachers and leadership had plenty of resource-sharing opportunities and channels of communication.


From the beginning of August, HQIS leadership was engaged in a two weeks long leadership-building training session. Decision-making, leadership behavior and practice, campus culture, team-building, and case analysis were just some of the themes addressed during the session. It is worth to mention the new Teacher Attributes. Teachers have been divided into 3 groups, comparing the characteristics of the teacher Positive and Negative Behavior. Our leadership members then voted and chose the 7 characteristics that are now part of the new Code of Conduct that HQIS teachers must observe. The teacher overall evaluation will now go through these important criteria.
In addition, the leadership has set new targets for the 2020-2021 Academic Year, as well as an agenda to achieve these targets. They are:
1 - Campus Culture
a. Students and adults must care about each other
b. Students and adults must feel physically and mentally safe
c. Curiosity is the driving force of learning
d. The staff and the student groups of HQIS are inclusive
e. The school pursues common goals
2 - HQIS Three Pillars of Academic Excellence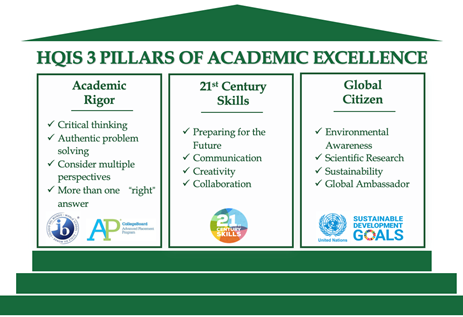 The Three Pillars (Academic Rigor, 21st Century Skills, Living Environment) will be incorporated in our curriculum and in the daily teaching practices.
3 - School-Home Communication
HQIS will implement relevant regulations to guarantee effective and continuous communication with the families of our Community.
The Professional Development training sessions were particularly useful and stimulating for all of our teachers and educators.
What is the IB-PYP?
The IB Primary Years Programme (PYP), created by the International Baccalaureate Organization, is designed for children aged 3 – 12. This program nurtures and develops young students as caring, active participants in a lifelong journey of learning. It is different from the traditional teaching methodologies, and it is underpinned by six transdisciplinary themes around which learning is planned:
Who we are
Where we are in place and time
How we express ourselves
How the world works
How we organize ourselves
Sharing the planet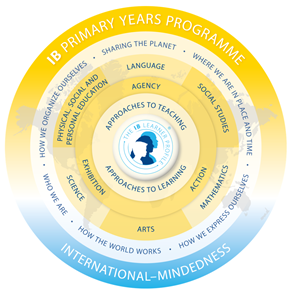 Why the IB-PYP is the right choice for
your child?
Research shows that IB-PYP students outperform non-IB-PYP students. PYP students use critical and creative thinking to develop knowledge, understanding and skills within and across subject areas. PYP students become inquirers, knowledgeable, thinkers, principled, communicators, open-minded, caring, balanced, and reflective. Students can express ideas and opinions, and they can propose solutions that make a difference in their lives and the lives of others.


Inquiry-based learning is the core of the IB-PYP


To let teachers better understand the fundament of the IB-PYP, our PYP Coordinator, Ms. Robin Long, made an experiment: our teachers, divided into groups, were required to write on a blank paper what they think inquiry-based learning is. Finally, each group of teachers got a unified definition. Inquiry-based instruction is a student-centered approach where the instructor guides the students through questions posed, methods designed, and data interpreted by the students. Curiosity is the "engine" of this process, and students actively discover information to support their investigations: raising problems is even more important than finding solutions.
The sessions were extremely useful for every participant. Our teachers improved their understanding of the PYP curriculum system, and the knowledge they gained will be put into practice during their daily activities at HQIS. Our teachers are devoted to education, and this year started with an explosion of enthusiasm!
Contact US
218 South Yi Li Road (Close to Lanbaoshi Road)
Shanghai, China 201103
伊犁南路218号(近蓝宝石路)
Phone: +8621 62689773 / 62682074-138 (한국어 상담 For Korean Families)
Email: admissions@hqis.org
Outreach: marketing@hqis.org

Stay Connected