As one of the established international schools in Shanghai, promoting parent engagement in children's education has always been one of our main goals. Education is more than what happens inside the walls of a classroom, parents play a key role in the development of students. We hope that parents can join us and grow together as a community.

Last Thursday our parents gathered together for two new Family Sharing Salon sessions. Once again, we want to stress the importance of these online and offline sharings for HQIS families, as the more they know about the school curriculum and methodologies, the more they can support their children at home.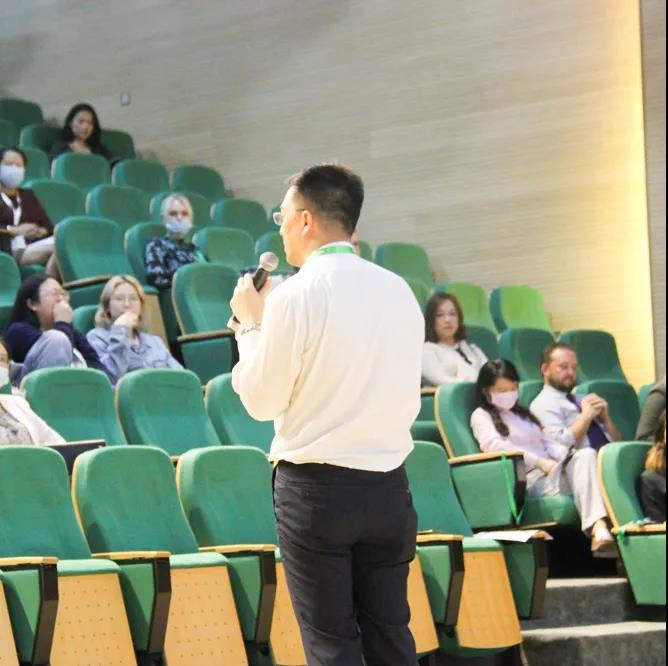 - Singapore Math in Primary School

Presenter: Ms. Rebecca Allen, HQIS Primary School Math Coordinator 小学部数学课程主管

Math: an obstacle for many children, a nightmare for a lot of parents. Math is fundamentally logical, and it doesn't allow you to simply memorize facts At its core, Singapore Math is math. It encompasses an entire approach towards learning & teaching where students develop thinking, reasoning, communication, application and metacognitive skills through a mathematical approach to problem-solving.and repeat them during assessments. In this session, Ms. Allen explained why Singapore Math is the best way of teaching mathematics.

Besides, Singapore Math is based on the C-P-A method (Concrete-Pictorial-Abstract). Students will focus on understanding, communication and application, covering fewer topics more in-depth.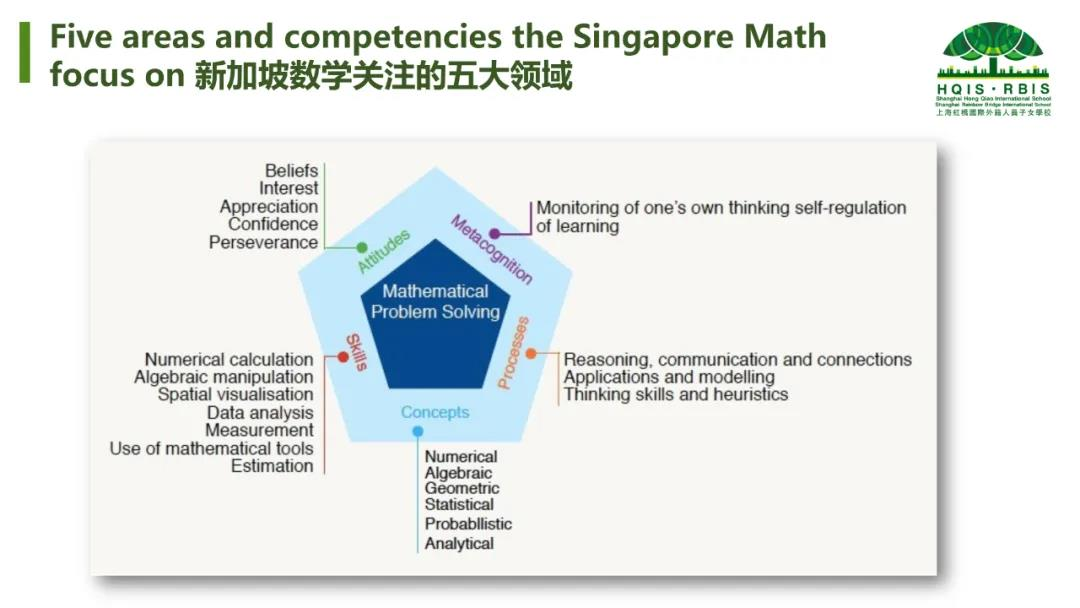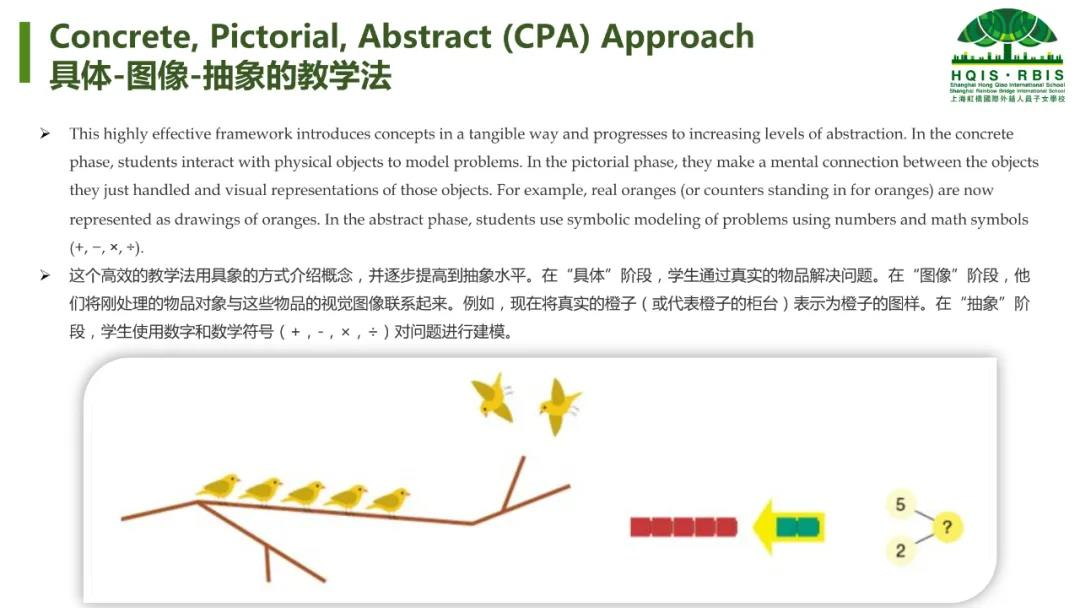 The Singapore Mathematics Program in HQIS aims to help students to establish a solid mathematical foundation. By developing critical thinking skills and a passion for learning, our students can excel in all aspects of their education.



- AP Curriculum In Upper School


Ms. Anique Kruger, HQIS Upper School Curriculum Coordinator, and English Teacher; 中学部课程主管,英语文学课授课老师

Bing Bing Chen, HQIS College Counseling Director 大学升学指导总监

We want to prepare our students to embark on the challenging journey to college in the best possible way. AP courses show admissions officers that students are ready for college-level work, and many colleges give AP Courses additional points.


This year, HQIS will offer 11 AP courses starting from Grade 10 including Calculus AB, Calculus BC, Statistics, Psychology, Biology, Art, American history, European History, Physics, Chinese Language and Culture, English Language and Composition. During the session, every AP Course available at HQIS has been presented by the teachers.

At last, HQIS College Counseling Director Ms. Bingbing Chen explained in detail the benefits of AP courses, such as course prerequisites, the acceptance for credit transfer in foreign universities, GPA, and more.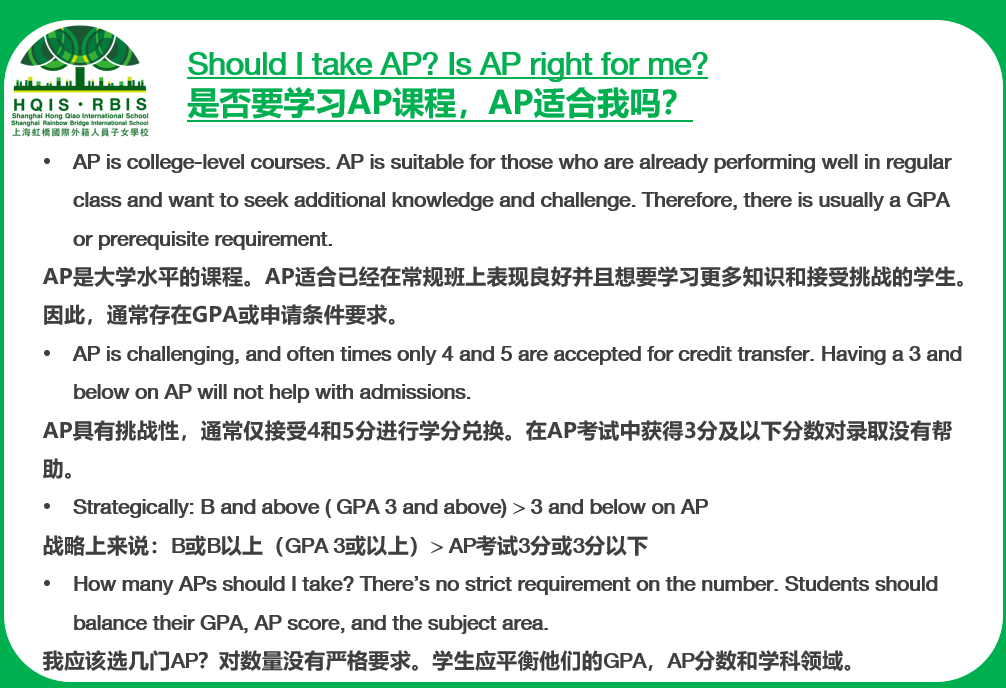 Once again, we want to thank our parents for their participation and contribution. Please, check our official Wechat account for news related to our future Family Sharing Salon sessions and other school events.